Spotlight on Brittany Berdy, PhD
By Dr. Katie E. Golden, MD
This month I interviewed Brittany Berdy, PhD, who is CMIT's pinpoint person for their Bio-Microbial Library Strain Collection. She is responsible for cultivating the bacterial strains that make up this comprehensive collection of healthy donor strains, which are in turn used for advanced microbiome research by both CMIT and the scientific community at large. (You can read more about this exciting resource here.) She was kind enough to share her time with me the day before she goes on maternity leave to have her first child! From my perspective, she seemed to be handling a full-term pregnancy, her work, and a recent move to Saugus with humor and grace.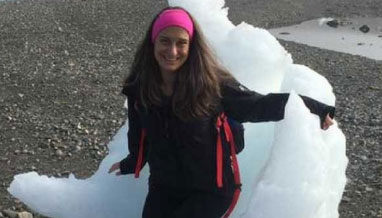 Katie: Tell us what you do at CMIT.
Brittany: I started as the library curator for the Bio-Microbial Library Strain Collection. I am responsible for cultivating our collection of bacterial strains so they are available for researchers and collaborators who need them. I work with investigators to help cultivate the specific strains they need for their research. Recently, we have been seeing a lot of inquiries from researchers and biotech companies around the globe. I think the recent publication introducing the microbiome library has generated a lot of interest!
Katie: When did you first become interested in microbiome research?
Brittany: I was always interested in microbiology and studied it in college, and in graduate school, my interest shifted to environmental microbiology. I happened to go to a talk early on in graduate school that really peaked my interest in the field. The speaker, Larry David, was talking about a study in which they looked at the effect of an individuals lifestyle and travel on changes in their microbiome over time. After that talk, I remained interested in the field for the rest of graduate school. I ultimately decided to focus my post-doc work on microbiome research.
Katie: If you had the chance, what other research topics or projects would you want to pursue?
Brittany: There is a part of me that has always wanted to return to the Arctic and study the bacteria there. I would love to apply the metagenomic and metabolomic technology we have now, which was not available at the time, to try and understand the bacteria that live there in a new way.
I would also love to study the association between the microbiome and mental health. This is a newly emerging field of research, but has a lot of potential to uncover the role of the microbiome and neurotransmitter activity in the gut, which likely has implications for a spectrum of psychiatric disease. I think that is really interesting.
Katie: Let's back up — I want to hear more about your time in the Arctic. What was it like to live and work there?
Brittany: It was great, I would love to go back. I was at the Thule Air Base. (For our readers, I looked this up, and it is on the northern coast of Greenland, which, to clarify, is north of the Arctic Circle and just 947 miles from the North Pole. It is so far north, that Brittany noted she had to drive south to see the Northern Lights!) It is a very special, connected community up there. I went in the summer, when it is light for 24 hours a day. If there was anything you needed or wanted — like a Dunkin Donuts coffee — you don't have that option. There is one bar, one mess hall, one store. This was mainly a challenge when it came to lab equipment. I essentially had to build my lab from scratch, and if I didn't bring a piece of equipment, I had to improvise. I actually had to build an autoclave from a rice cooker!
Katie: As someone whose work is focused on the importance of microbiome diversity, do you find your knowledge in this area influences any personal lifestyle decisions?
Brittany: I try not to overreact to new research regarding diet and our microbiome. For example, I am not obsessive about taking probiotics. I do try to limit processed foods, and eat natural foods like fruits and vegetables as much as possible, but I am not perfect. I still love poptarts! (The s'mores flavor is the best!) I would say I am very particular, however, about taking antibiotics. I would not take them unless I absolutely needed them. Sometimes this means I disagree with my dad, who is a doctor and trained in the era when a Z-pack was prescribed all the time for a cold. We still disagree about that.
Katie: What do you enjoy doing outside the lab?
Brittany: Well I usually like running, but I haven't really been able to do that for six months! I am currently obsessed with reading. I have always loved reading, but right now it is the only thing that makes my new commute tolerable.
Katie: Do you have a favorite book?
Brittany: My lifelong favorite book has always been The Odyssey. I still remember when I first read it in 8th grade. We had to make a board game based on all the adventures in the book, it was awesome! Although I just finished "Where the Crawdads Sing," and loved it! I think it might be my new favorite book.