MIT Microbiome Club hosts 5th Annual Microbiome Symposium
Shelby Doyle, PhD | Center for Microbiome Informatics and Therapeutics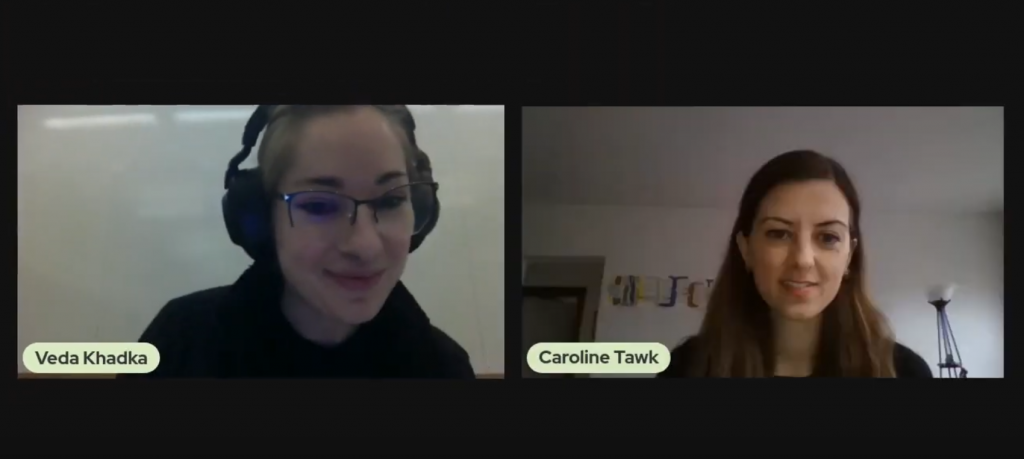 Conferences and large scientific meetings energize the research community. Sharing new findings, making new connections, learning about new techniques, exposing trainees to the wider field—these interactions fuel innovation.
When the Covid-19 pandemic was declared, many of these events lost their appeal in online formats or were cancelled altogether. The loss of these large events—at the same time that social distancing measures made impromptu lunchroom discussions and whiteboard brainstorming in the halls off limits—presented a unique challenge to connection and collaboration.
But one year after cancelation in 2020, our MIT Microbiome Club successfully hosted their 5th annual Microbiome Symposium online with a broader reach than ever before.
A trainee-driven event for the Boston area
The MIT Microbiome Club is CMIT's student-led community education and outreach initiative. The Microbiome Club provides a space at MIT dedicated to the exploration of the vibrant microbiome field by bringing together students, researchers, clinicians, and members of the public currently working on or interested in the microbiome.
This group has quickly become one of the largest undergraduate clubs on campus, with trainees from institutions across Boston among its membership. Though a variety of programming—hands-on workshops, lunch and learn discussions, dinners with faculty and industry professionals, science outreach events—the Microbiome Club has created an on-ramp for students to learn about the microbiome field and connect to the professional network they need to pursue their interests.
Since 2016, the microbiome clubs of MIT and Harvard partnered to hold the MIT-Harvard Microbiome Symposium. Offering an unparalleled opportunity for trainees from any institution to attend and present their work without cost, the Microbiome Symposium became a highly anticipated event for trainees and investigators alike. Furthermore, this event provides a one-of-a-kind opportunity for microbiome researchers from disparate fields, from academia or industry, to share ideas and widen their networks—strengthening the local microbiome ecosystem.
The 5th annual symposium was scheduled for April 2020, but was cancelled in the final lead up to the event when the Covid-19 pandemic was declared.
A new chapter with a wider reach
Faced with the possibility of another missed symposium in 2021, Veda Khadka, an MIT Microbiology PhD Candidate and MIT Microbiome Club board member, was determined to transition the event to a virtual format.
Using an event platform from Socio, Khadka and the rest of the organizing team put on an event with all the hallmark features of years past: keynote addresses from field leaders, flash talks from trainees and early-career investigators, a competitive trainee poster session, and opportunities to network with fellow academics and industry representatives.
With a program featuring the wide variety of subfields within microbiome research, this year's symposium exposed attendees to a number of cutting-edge techniques and emerging mechanistic discoveries. It was clear the event delivered on energizing the community from the trainee engagement and reactions, best exemplified by Khadka's recounting her favorite talk of the day: a flash talk from Dr. Wenshan Zheng on a microfluidic microbial sequencing technology, Microbe-seq. She says it was "mind-blowing to see the videos of the droplet technology" used to isolate individual microbes for sequencing. She added: "Seeing [that] Dr. Zheng was able to get bacteria in a single droplet and get uncontaminated genomic data—my jaw dropped!"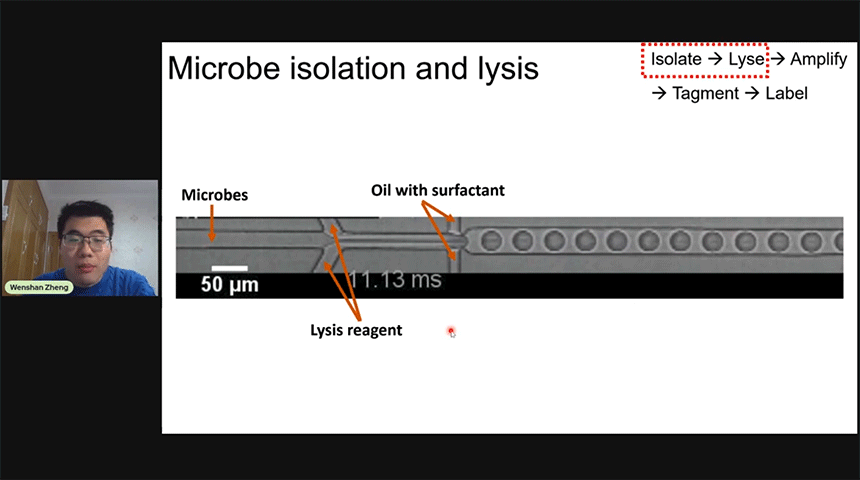 Khadka admitted she and her team did not know what to expect for attendance after a year of virtual meetings and "zoom fatigue." But the response they had was better than ever.
This year's meeting, held on Thursday, April 15th, had over 40 abstract submissions and 335 attendees for the livestreamed event—all comparable to the last in-person event held at MIT in 2019. But the event recording drew an additional 60 attendees from around the world in the days that followed—increasing accessibility through the new virtual format.
Researchers from South Africa, Argentina, Japan, India, Canada, Mexico and the UK were among the attendees and presenters at this year's symposium. When asked what this geographic diversity meant to her, Khadka says, "It's easy for me to think about our community as just Boston and a couple of other institutions, but to think that the wider world is invested in what's going on in the microbiome space at MIT is really exciting."
The greater inclusivity was undoubtedly appreciated by attendees, as well. One researcher from Japan made sure to extend a personal thank you to the organizers for allowing them to watch the presentations asynchronously—11:30pm JST is a little late for a conference start time!
After a challenging and uncertain pandemic year, CMIT is thrilled to continue our support the MIT Microbiome Club Symposium, cultivating connection and re-energizing the trainee community.