These personal reflections on the Underworlds project's participation at the Cambridge Science Festival  was originally posted on The Mariana G. Matus Blog.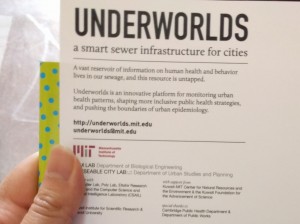 Our Underworlds (smart sewers!) team was lucky to participate in the 2016 Cambridge Science Festival.  On April 18, MIT Professor Eric Alm and Sam Lipson, the Director of Environmental Health at the Cambridge Public Health Department gave a talk on 'Sewage as a public health indicator' to Cambridge citizens. This being our first experience in the Festival, we had no idea what to expect in terms of attendance. And it being Marathon Day … well we thought only team members would be listening to the talk. The big surprise was that about 12 people -young and not so much- showed up with tons of enthusiasm and questions. Not only did they listen to a very technical one-hour talk, but they also asked questions non-stop until we literally left the building almost 30 minutes later.
Our main objective with this activity was to gather feedback and address concerns from people living in the area where we sample sewage. This is important to us because we are aiming to uncover patterns related to nutrition and infectious disease with neighborhood-level resolution. Here we were doubly surprised. The feedback we got was very positive, with people being excited and thrilled about our work. The only comment we got is that we should clarify we are looking at bacterial DNA and NOT human when we communicate. Even if our sample was small and biased towards people interested in science, we all felt this was a great first step in getting buy-in and participation from the local community.
The second Underworlds event was on April 19. Our teammates from Senseable City Lab put together a beautiful poster, postcards (yeah! see below!) and a demo of our sewage sampling robot in MIT's lobby 7.
Apparently, a small malfunction in the robot resulted in built-up pressure and blue-colored water (representing sewage) squirted all over the place (I'm so sad I missed that part!) which unexpectedly provided the perfect example of why it is important to automate sewage collection!
Kids and adults alike asked lots of interesting questions. My favorite ones were asked by a ten-year old: What does it mean you found pomegranate? How can you be sure it's pomegranate and not something else? I ended up explaining DNA sequencing, comparison to databases, and other very technical aspects of the work to him. My PhD-level work explained to a ten-year old? I think we can call this another big success.
Many thanks to Sung Kim – the Cambridge Science Festival Manager – and all her team for the opportunity to participate!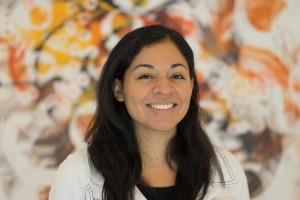 Mariana G. Matus is a PhD candidate in Computational and Systems Biology at MIT. Her research focuses on how sewage networks can be leveraged to study the health and behavior of human populations. When not performing research, she likes to drink tea and read.